Icon converter software - Iconion
Icons are a great way to provide a polished and professional appearance to your working website. Although it may seem like a trivial addition, the technological generation is profoundly swayed by savvy computer skills and a visually appealing presentation. Business owners and site administrators alike will not only improve the overall aesthetics of their webpage with the use of customized icons, but their consumers will be able to quickly and conveniently navigate to particular pages of interest.
As we continue to move forward in the realm of instant gratification, keep your website up to speed with advantageous icons that immediately direct customers to internal hyperlinks or a myriad of external pages that have already established infamous and recognized icons. It is fascinating how our society has come to instantly associate social media in terms of a tiny blue bird or lowercase 'f.' How often do you use the 'thumbs up' symbol outside of regular Facebook activity to demonstrate you approve or appreciate the value of something? Incorporating icons and symbols is not limited to social media reference alone, but can also provide an engaging representation of an action or specific content within your webpage. If this is such a pivotal aspect of website operations, where can you find the most efficient and user-friendly icon converter software?
Using the revolutionary icon converter, Iconion, which has an established reputation as a great icon converter for Mac, users can completely customize the color scheme, shadow, orientation, scale, and various other graphic characteristics of a particular icon. It is also a top rated icon converter for Windows, allowing quick and easy creation of individualized and stylish icons can then be downloaded in various image forms for use on your webpage.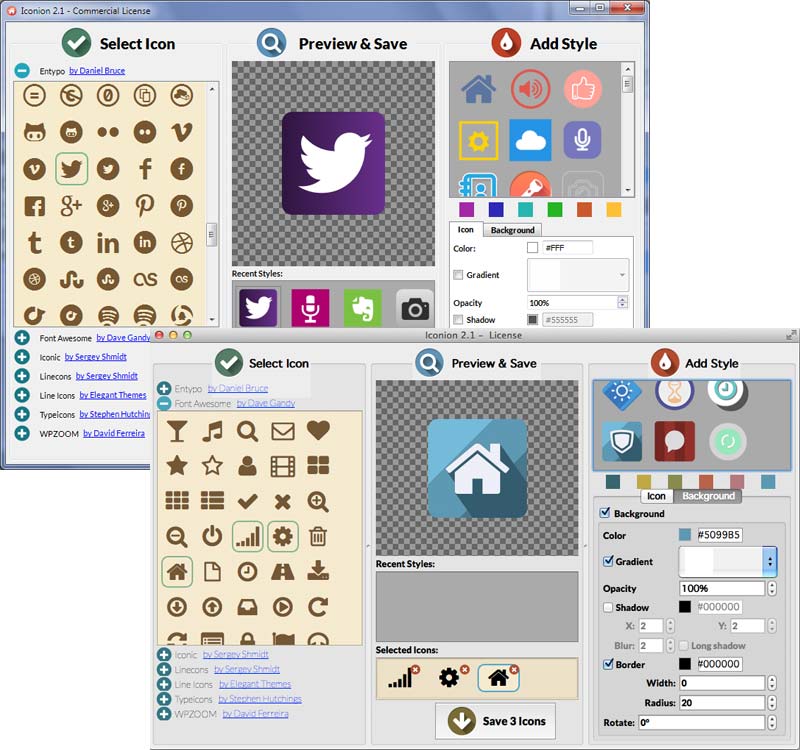 Regardless of your company's specific industry, Iconion features a plethora of popular icons to choose from. In fact, their database includes thousands of generic symbols that can be adjusted and tweaked to meet your individual needs. Not only will your clients rave about the style and aesthetics of your polished website that includes custom icons, but they will be able to effortlessly navigate to the appropriate locations within and outside of your webpage.
Related
Get Iconion
Free download for Windows and Mac!