Online Icon Converter – Design your own icons
Icon in computer terminology is a pictogram which serves the user to navigate through various files and software tools in a computer. So computer icons were born along with the computers as nothing can be accomplished on a computer without an icon. However these icons have undergone a number changes in their sizes, shapes and resolution since the days of Apple's first Mac Personal computer to today's era of Apple iPad.
In the initial days there were various formats of icons in use. Windows operating system used ICO format while Apple OS used ICNS format. Windows and Apple continue to use these formats still while UNIX and Linux stopped using specialised icon formats and started to support PNG format. So now only two formats still continue to be in use. An icon was generally meant to be in square shape. This size was sufficient then because those computers used lower resolution graphic cards and moreover they need just a click with some pointing device like a mouse. But today the advent of touch devices has completely changed the scenario. A 16x16 icon would not be able to serve the purpose. To be able to be used on these devices the icons needs to be atleast 32x32 size with improved resolution of course. Otherwise the user will not be able to confidently tap on them with their finger on the touch supported devices. Thus the icon now needs to sufficiently large enough with highest possible resolution.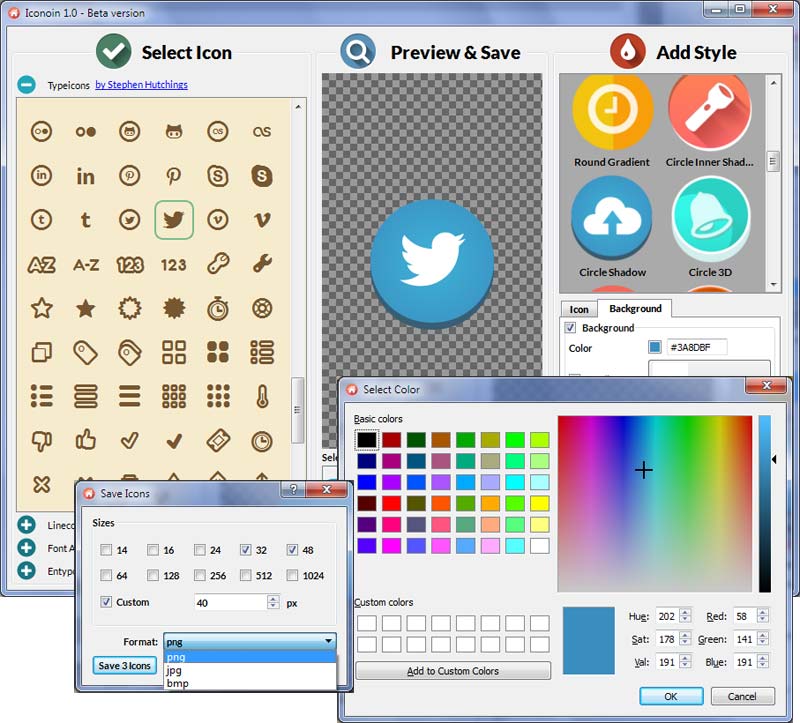 An icon basically should serve certain basic requirements. Firstly, they should be designed mainly for the purpose of navigation. So it should be sufficiently bigger in size to be clicked by mouse on computers or touched by finger on touch devices. Secondly, they need to convey something about their functionality. Thirdly the icons should be properly distinguished from the background. In other words, care should be taken while selecting the colors for an icon. The color used for icon should make the icon look distinct and vivid on any background.
There are a number of online icon creators available on internet which lets you to design your own icons.Online icon generator is one such tool. It is just not one among them but it is the best among them. It supports you to design your own icons in both PNG and ICO formats. You can develop your favicons and badges in no time with the help of this tool. This icon maker comes with various collections of shapes, colors and fonts. User can choose the shape, color and font from these collections to design their icon in their unique style. That's all your icon will be automatically generated by this tool in no time. You can download you icon in all sizes. This simple icon creator tool can deliver the icons in your unique style in all sizes meeting your specifications within no time for free. Therefore Free onlineicon maker is considered the best icon maker tool that is available online.
Related
Get Iconion
Free download for Windows and Mac!