Iconion Icon Maker - Create beautiful icons with a minimum of graphics expertise and time!
In Web and app design, one of the greatest annoyances designers are presented with is the hassle of creating icons that are clear, functional, scalable and have a consistent style. Often these icons are needed in areas that simply don't merit starting from scratch, because they denote subjects that can only be represented in so many different ways (such a search – why would anyone use anything but 'Search' or a magnifying glass?). One might be tempted to try and 'break the mold,' but with functional icons this tends to wind up looking gimmicky.
Icons can be needed in a number of areas one might not suspect - particularly software applications, business documents and informational presentations such as PowerPoint. Typography only gets us so far - but if you're doing a presentation that consists mainly of text, adding the right little graphic at the right spot can help your reader or user remember your content better by associating it with a clear and simple graphic.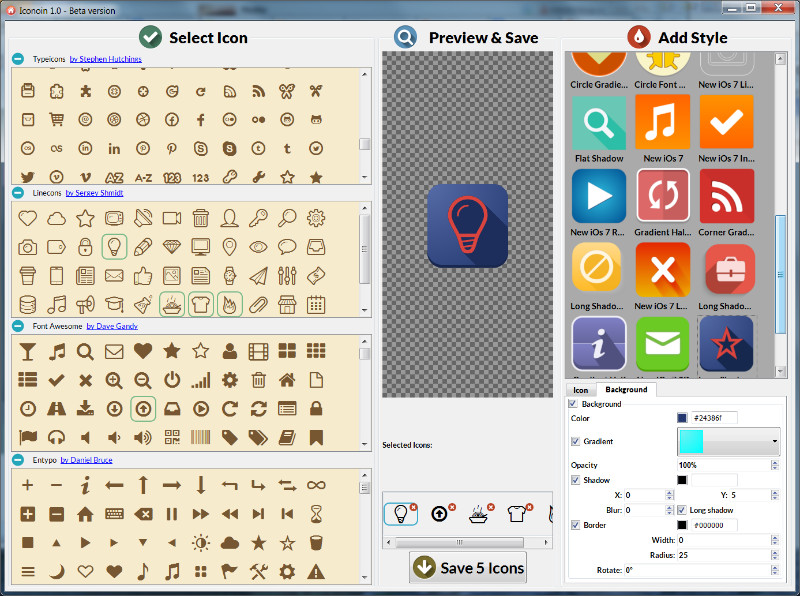 Iconion Free Icon Maker is targeted towards a specific range of uses, and does one thing very well - create sets of beautiful, consistently styled and recognizable icons with a minimum of graphics expertise, time and hassle. Its output is also intended to work on as many platforms as possible. This makes Iconion icon generator the ideal way to produce icons for applications, websites and PowerPoint-type presentations while maintaining a consistent styles. And anyone in your office will be able to use it effortlessly, out of the box.
One approach is to create a template file in a program such as Photoshop and re-use that file each time you want to create a new icon. But this is time-consuming, and overly involved for the sort of 'flat' style that has taken over iOS and many other platforms as the complexity of graphics and ads has exploded. Today, a simple square icon with as little complexity as possible tends to work best in most situations by helping the icon stand out against content whether text or visual.
Enter Iconion. Currently in beta, this software allows you to pull glyphs from fonts and convert them directly to icons. Currently the software includes four fonts – Typeicons by Stephen Hutchings, Linecons by Sergey Schmidt, Font Awesome by Dave Gandy, and Entypo by Daniel Bruce. I'm sure we can expect more offerings as the software moves beyond beta and more fonts are licensed.
The Iconion icon creator software itself is quite simple. On the left is a palette of font glyphs ('Select Icon'), divided by font name. The smallest collection, Linecons, boasts 48 glyphs with common themes – hearts, stars, books, music and various other icons. The others boast well over 150 glyphs each.
The center panel is the Preview and Save area. This area shows you the icon you've designed, along with all of the glyphs you've selected for use in this icon. Each icon can show one glyph, but you can create one style and save dozens of glyphs in that style at the same time. The output can be PNG, JPG or BMP, in resolutions, up to 1024px square – perfect for mobile apps, web interfaces or even Mac OS X's scalable PNG icons.
The right panel is given over to selecting the style of the icon. You can surround the glyph with hollow or solid backgrounds in the shape of circles, squares, or any number of variations. The backing can be solid, gradient, recessed or shadowed and there are a number of adjustable preset styles (such as a gradient-shadowed glyph set inside a recessed diamond). Once you select a style, you can save as many glyphs in that style as you like – all at once!
Below the presets selector you'll find the customization options. These are divided between the icon and its background, and allow you to set foreground color/gradient, opacity, shadow color/length/offset, line thickness and rotation.
Related
Get Iconion
Free download for Windows and Mac!