Long Shadow Design for Icons
The ever changing world of web designing has exposed us to some of the most innovative and creative web design ideas ever in just a little course of time. The change itself is quite astonishing, as we witness how the consumer taste for web design has shifted from the ever so flashy web pages with loud colors and screaming media and content to the new simple and meek flat web design with bright colors. Flat web design is now the new and most used design for web pages and icons all over the market. It has been adopted by Windows 8 and Apple for their latest IOS 7. As they say, "Good design is good business." - Thomas J. Watson
Even though, with all the bright color schemes and the spacious interface, flat design has a new trend in its purlieu. This Long Shadow Design, as termed by one of the developers, Jeff Escalante, has caught the attention many designers worldwide. The reason being the sharp yet decent look these "Long Shadow Icons" propose which is what everyone is into these days.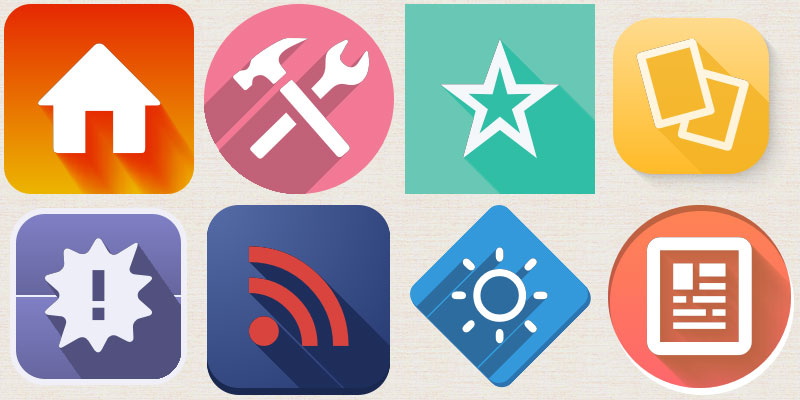 The Long Shadow Effect on a flat design is made by adding a shadow of approximately 2-2.5 times of the object at an angle of mostly 45 degrees. This simple addition has made much difference of the icon designs and have given them more depth and a much elegant appearance. Making them more attractive and much easier on the eyes. These Long Shadow Designs are essentially the outcome of the amalgamate between the two dimensional flat web design that we all loved and a simple shadow effect giving it a whole new three dimensional prospective at the same time.
Amazing, isn't it? Designing your web site or web page according to the new long shadow design is just about the wisest decision you can make now-a-days to improve your pages traffic and "visitors to consumer" rate. And doing that is as easy as it could be. There are a number of designers and firms out there who would mold your website to the latest design for a very fair charge. There are also websites that allow you to professionally design your own icon to make it into a long shadow icon set. A very good example is iconion.com, where you can easily design your own icon just how you like.
All in all, at the end of the day, it is all about competition in the world of marketing. If your website, web page or the icon design on it are more attractive in the eyes of your consumers then you have an immediate advantage over your competitors. So don't miss out on this great opportunity and make the most of it!
"Design must reflect the practical and aesthetic in business but above all... good design must primarily serve people." - Thomas J. Watson
Related
Get Iconion
Free download for Windows and Mac!