CommerceM4 Review Pt 2 - Online Shopping HTML Template
This is one of the great benefits of providing useful information related to the products you are selling on your site – the customers get led there from their searches and if the information is worth – and I'm sure you will do your best making it – eventually buy from you in return. Having a blog or just a rich info section has been and still remains one of the powerful instruments dragging potential audience to your site.
Is this possible to achieve with the CommerceM4 online shopping HTML template you might ask – Yes! And it's also easy and fun too. You see – there is a whole content dedicated section in the online shopping html template block's palette and of course you can as well use the blocks taking place there in combination with any other form any other, like Features and Info for example to create stunning article which grab the attention not only with the content but also with the great and appealing way it has been presented – that also matters since the users seem to be pushed back form a long monolith blocks of text or just tend to scroll them away – not the goal we need in return of our efforts gathering the content.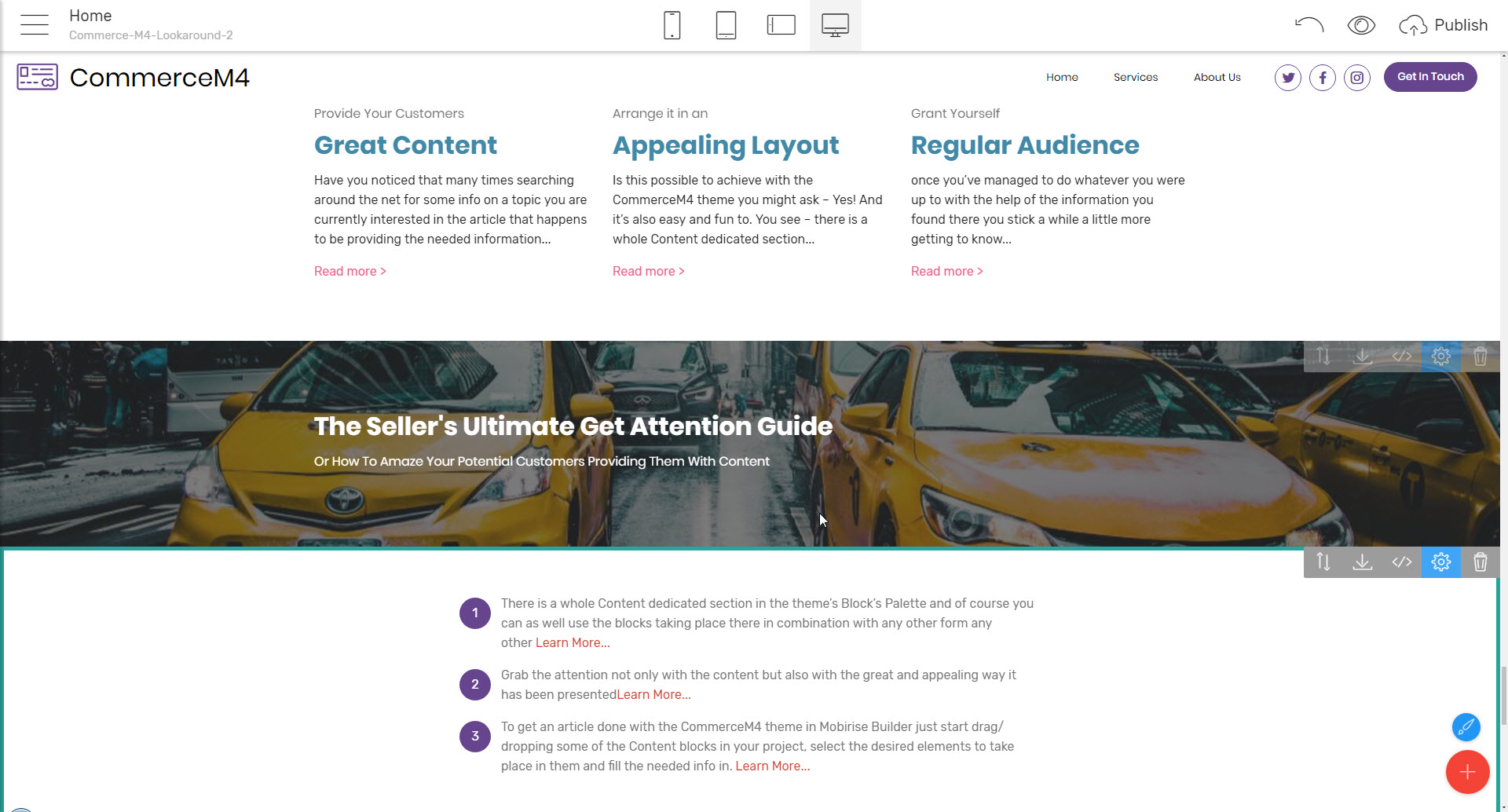 So, to get an article done with the CommerceM4 HTML business template in Mobirise Builder just start drag/ dropping some of the Content blocks in your project, select the desired elements to take place in them and fill the needed info in. Don't be confused if you don't really know initially what exact result you are after – just use the powerful block rearrangement feature and the fast way a prototype gets created to experiment with a few possible visions until you get to something more or less suiting your vision. Then go on and start pouring the images and text content in it. It has happened in my experience to get something done to a specific point and just then find a block I think will present my idea even better so it also requires good knowledge of the blocks themselves and all the features they hide within – it is a good idea when you're first starting to work with the CommerceM4 online shopping html template to draw pretty much all the blocks in and pay around with them for no reason – just to get to know them better and easily figure out which is the right block to use later on. It's fun and from what I have seen getting familiar with the block's capabilities happens really fast.
And in case you would like to gain some more trust from the people reading it is a good idea to
Show the real-life person standing behind the content
With some of the great Team blocks the CommerceM4 HTML business template also has. Styled and set up pretty much like features blocks they are more human being oriented and come packed with some extra functionality in this direction.
With Teams blocks you have pretty much the same cool styling like in the blocks in which you are showcasing your products and services – like gradient overlays on hover, adjustable number of items and switchable titles, subtitles and text, but since it's a live human being we're talking this time and the goal is the visitor to be able to get to know them better once the team member image gats hovered a list of tiny icons gets shown – each one leading to the person's social networks profile. So now it's as personal as it gets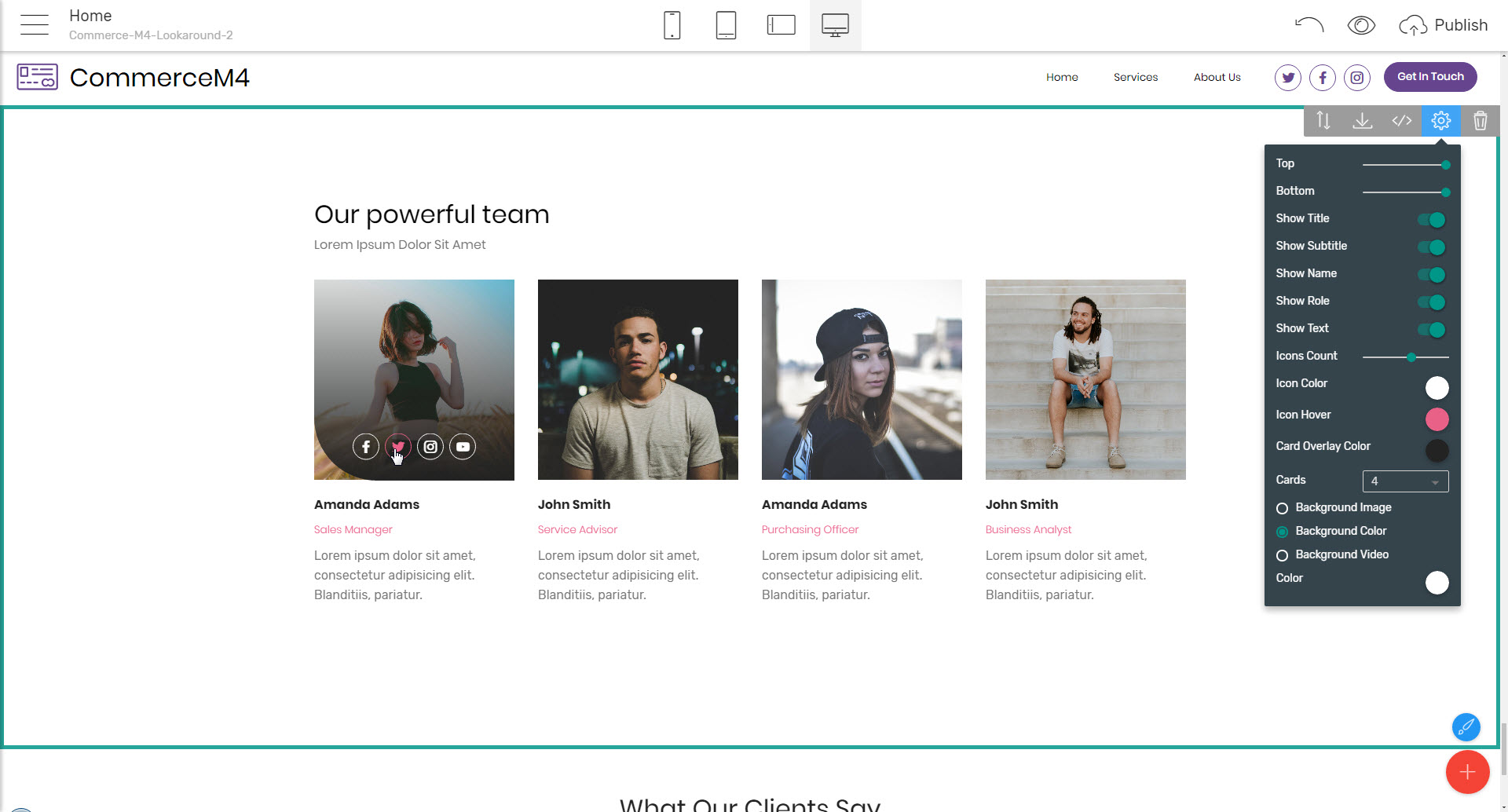 Showcasing your team is a good way gaining your visitor's trust since when picking up a product or service to be bought online unlike the actual hardware store people can't have what they are buying in their hands before giving the money to try it on and see if that's really what they need. They also can't take a look at the one selling it and make this very first impression intuitively getting if they should trust this person or not. All they have is a web document on a screen so giving fair and detailed info and personalizing it as much as possible is the only way to go here.
In this way of thoughts – another very important part of the potential purchase process comes to be the conversation with the seller – people are often uncertain and it's most needed to
Be in touch with your potential customers
By providing them easy ways to contact you or your representative in person, ask the questions that are bothering them and if there is an actual store behind the website – easily find it and come paying you a visit if needed.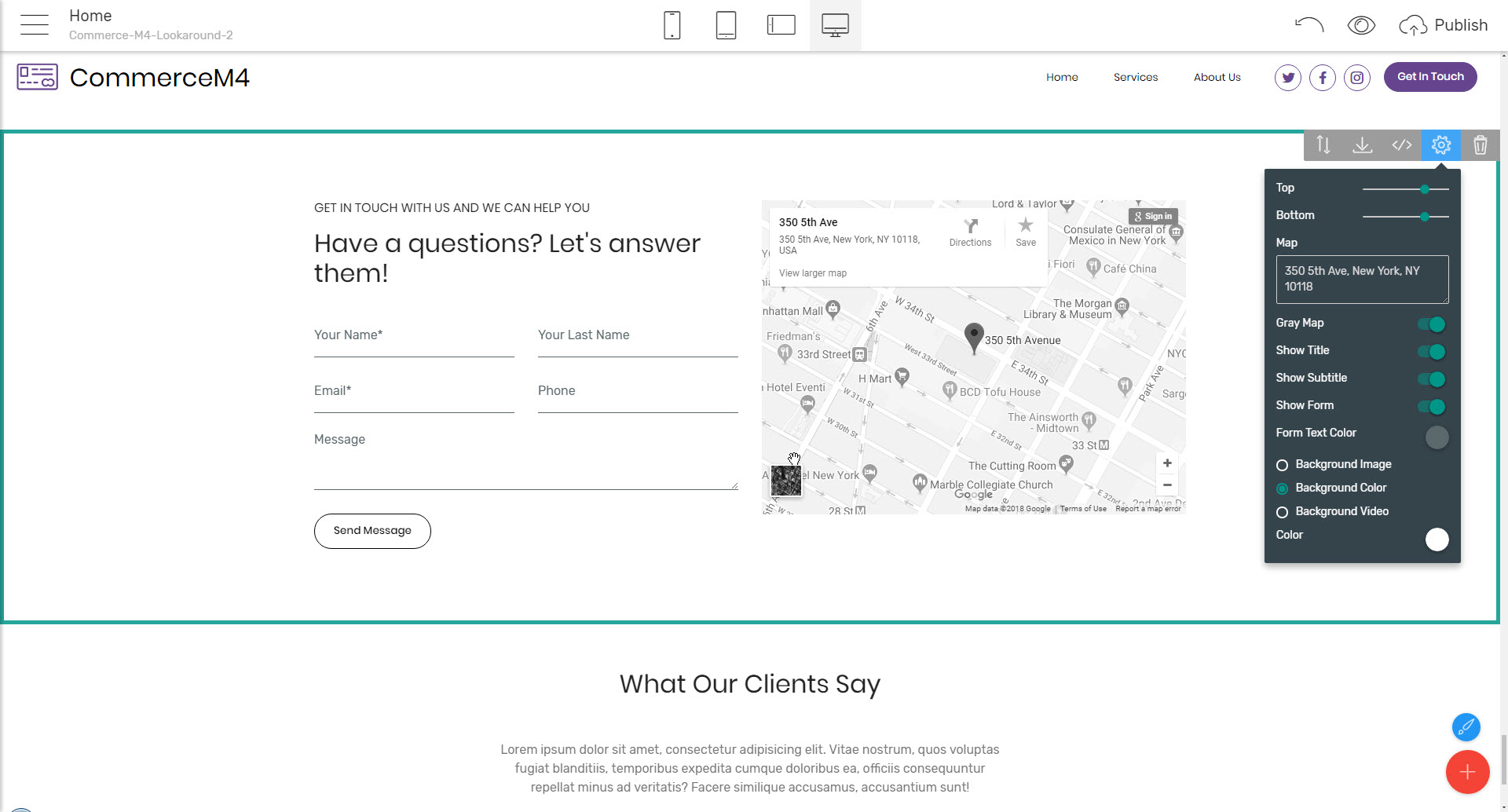 The very next section under Teams – Forms and Maps comes to be dedicated to this purpose entirely. What you have there are easy to handle by no web pro contact forms for the visitors to send their inquiries right from the site and useful little parts utilizing the Google Maps service helping you easily position your business geographically.
Typically setting up a web form in order too properly work out with the web server of the hosting solution you have chosen is a bit tricky and requires some extra information – like mail servers address protocols and ports which can be a bit confusing for a person being a great professional in a bit different field. That's been entirely passed by the cool way the forms in CommerceM4 online shopping HTML template are handled. The html business template as part of the Mobirise Builder application comes out of the box with a ready-made and working form handling solution – all you need is to select which fields you need taking place in the form and enter the email address you want the notifications upon form submission to arrive to. The forms you've created will not only work once uploaded on your server but even when previewed from your local hard drive as you progress with creating your project so feel free to try them out on the very next Preview you make once you've inserted and set them up.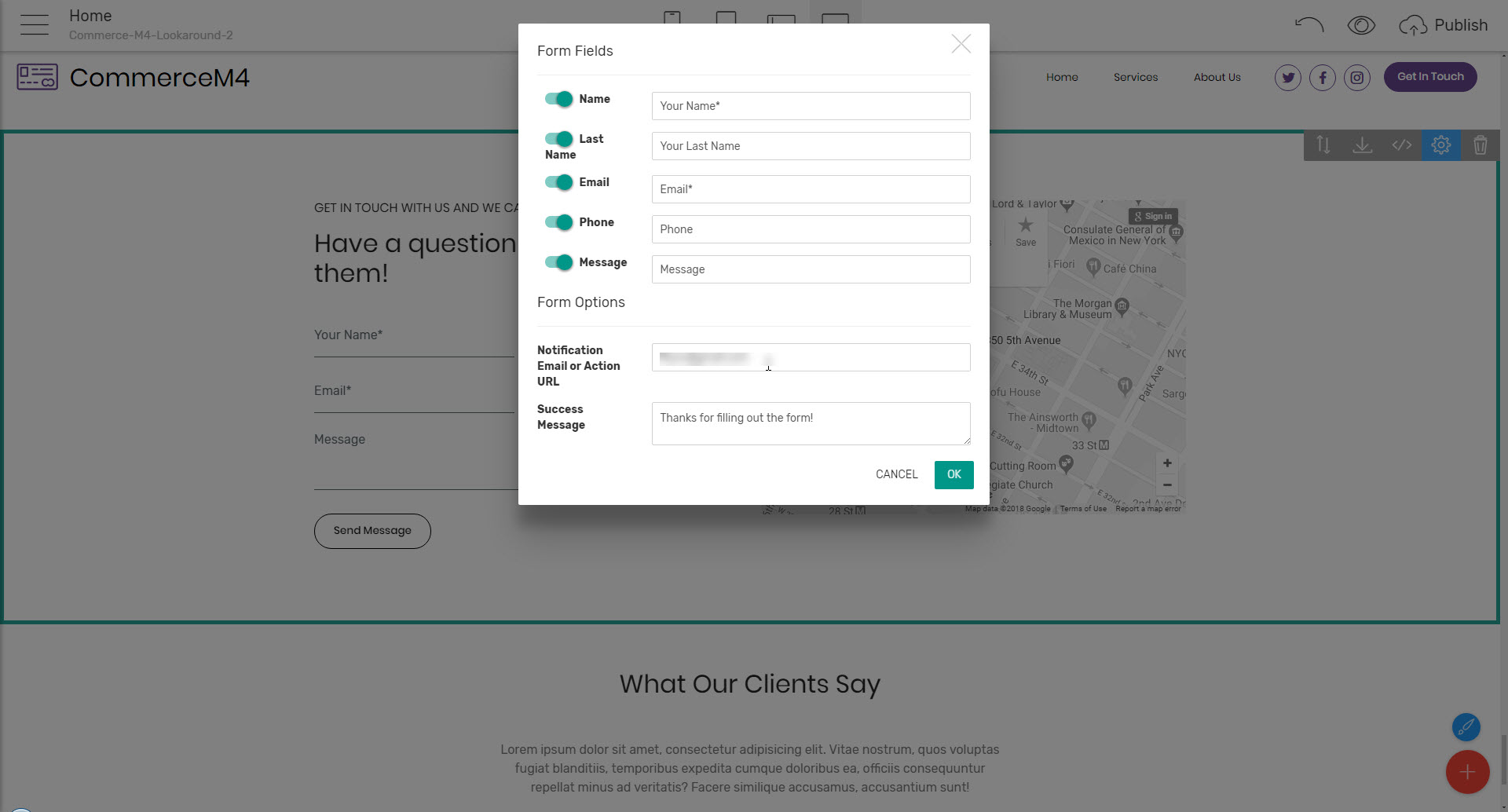 The very first time a form with a specific notification mail address gets submitted one-time verification email is first being sent – so the form handling service knows it's you owning the email and eventually – you typed it correctly in the form's settings. Once you click on the verification link you also get a username and password to access an online dashboard where you can track all of your form submissions at a glance and export them to a file if needed.
That's how easy it is to make a form working in your CommerceM4 HTML business template project with Mobirise Builder and setting up the maps is even easier – just type your address or GPS coordinates in the corresponding field in the block's properties panel and the program will do the rest. Additionally – since sometimes when specific brands are involved the site follows a particular color scheme which might not be working along nicely with the colors of the google map you also have a convenient switch to flip making the map element display in grayscale appearing stylish and as great combined as with any color.
That's pretty much how your customers are able to reach you at any time. Not everyone actually will but getting to know they can rest them calm and trusting it's a real thing you're selling which is important.
One more thing to do building your potential customer's confidence is to
Share what people which already did business with you are saying
As we all well know people are community animals and what we love most is talking to each other – especially when it comes to purchasing some stuff we often ask our friends, relatives and even strangers looking at the same item on the shelve about is it good is it worth etc. and sometimes this kind of feedback comes to be weighing much more than the flashy captions and descriptions – just a few words from a real human being we can't see having any benefit form us neither buying or not.
That's why one of the most useful ways building your potential customer's confidence is publishing some feedback from people who have already walked that path – making business with you. Do kindly ask your clients to write a few short sentences or even better – look up in your email conversation – usually in the very last emails when the job is almost done or the item – received, and you'll most probably find quite a few good quotes from satisfied clients.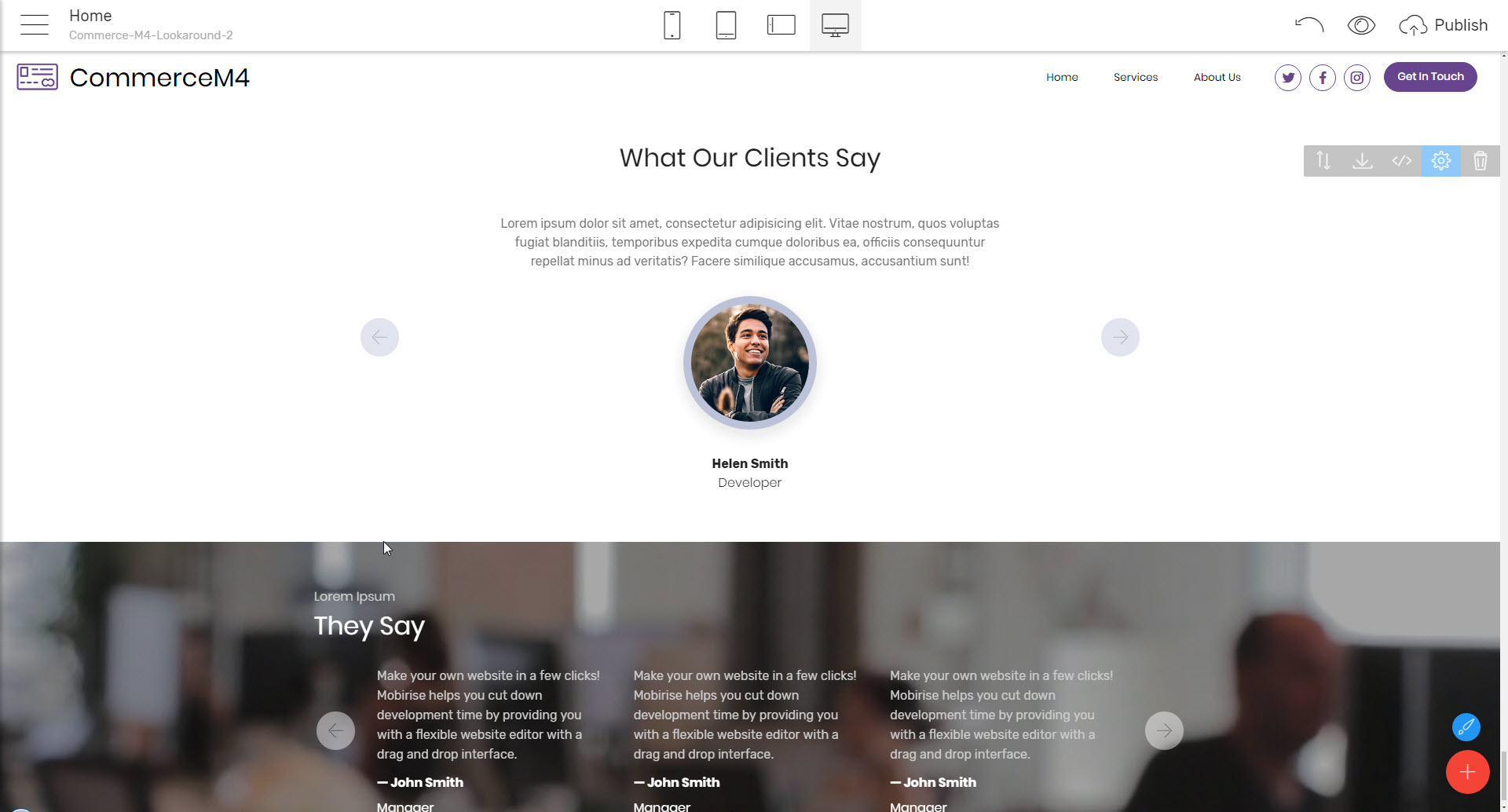 Do not edit them but just pour them in the blocks from the very next section called – you've guessed it – Testimonials in the Block's Palette. Over here you can take benefit an appealing testimonials slider grabbing the visitor's attention one person at a time also letting you showing their faces to once again prove these are real human beings. Or you might decide to be a bit more compact and informative with the features – like testimonials block letting you share a few feedbacks in a single row for larger screens automatically reducing the number of items as the screen width goes smaller for best legibility and appearance.
The choice is yours but do know – whatever you decide to place there – leave it raw – making too many edits manage to transfer your own style to the feedback and then it sometimes shows achieving pretty much the opposite effect than desired – the feedbacks looking fake are likely to push the visitor away.
Gaining the visitor's trust is one of the most important tasks a website has to accomplish but once it has done that it's also really important for us to be able to
Provide all the needed info and even more
So once they say "Okay, you seem cool – show me what you've got" the efforts you've laid gaining their trust and attention don't go in vain. Let's look at ourselves as customers – we do prefer trustworthy stores but if we have two such stores we often seem to buy form the one on which whatever is being sols is described better, don't we?
In order to help us with this the CommerceM4 online shopping HTML template has huge arsenal of blocks coming up next in the Palette which can be combined for presenting all the information you need for your company or service including ways to showcase large amounts of dry data I an appealing and interactive way.
What we have in the Pricing tables, Tables and Accordions sections are just the tools for that. As the names suggest each one of these sections is serving a specific purpose but what makes each one of the blocks taking place in them unique is the way information gets wrapped, styled and presented. Use them experimenting with the different looks they provide to get the appearance you think will present your terms and information in the best way possible making the potential client click on the purchase button with a smile of satisfaction for the good deal they just made.
Place long texts in the accordions to comfortably have them not taking place on site until the visitor clicks on the caption to expand them showing interest the text held inside by clicking on the title – this way you can spare precious screen space and have all that's important securely organized together still not forcing the user to endlessly scroll down and eventually get bored by endlessly looking up for the topic they need.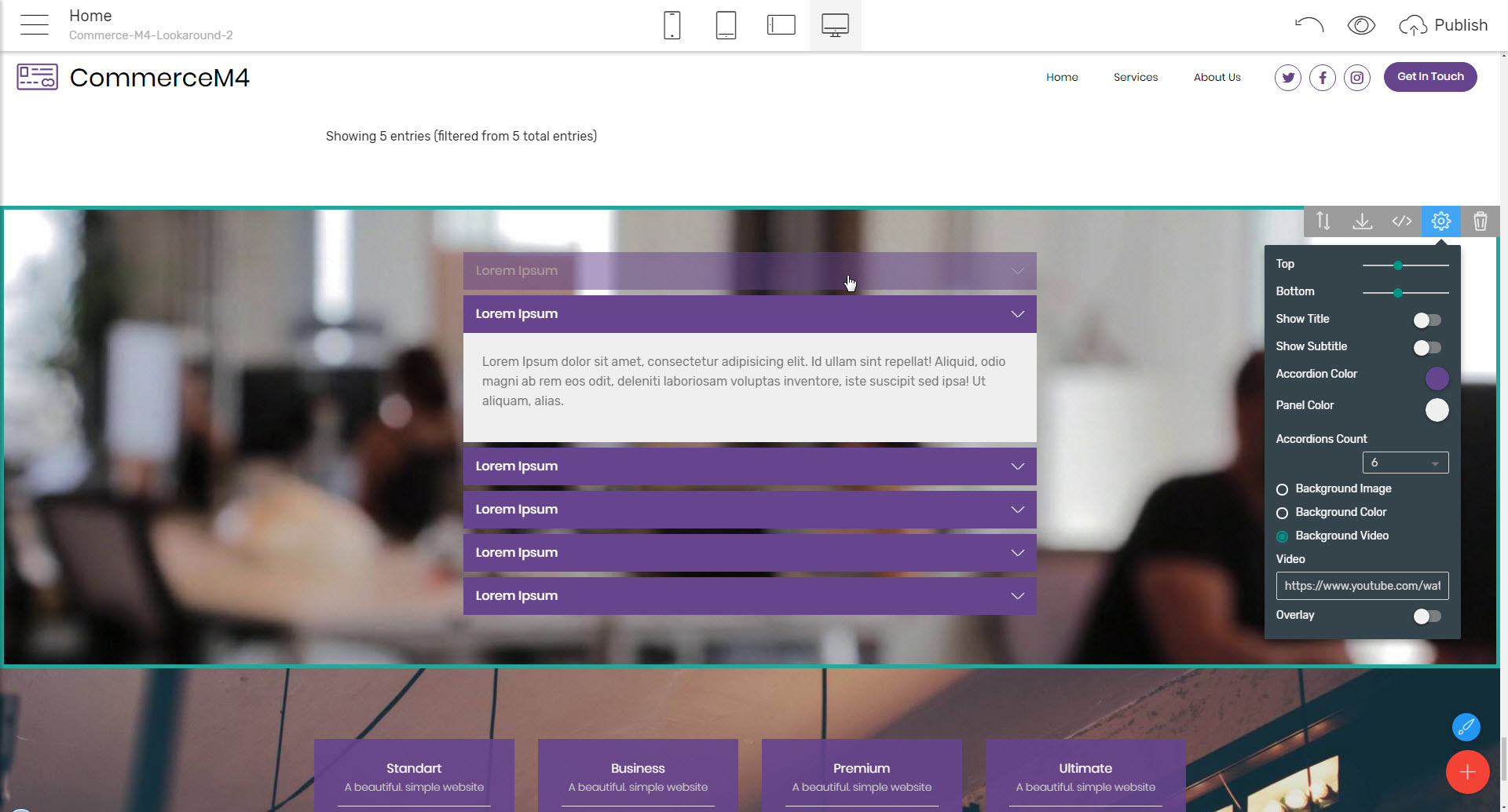 The world is vast and people all around differ in actual size and the way they define how big or small a specific item is, so in case you're selling globally size charts helping the customer to pick up the size they really need – no matter if they are from the US, EU or somewhere else around is really important. In case you need that – there is table block comfortably preset for you in the Tables section.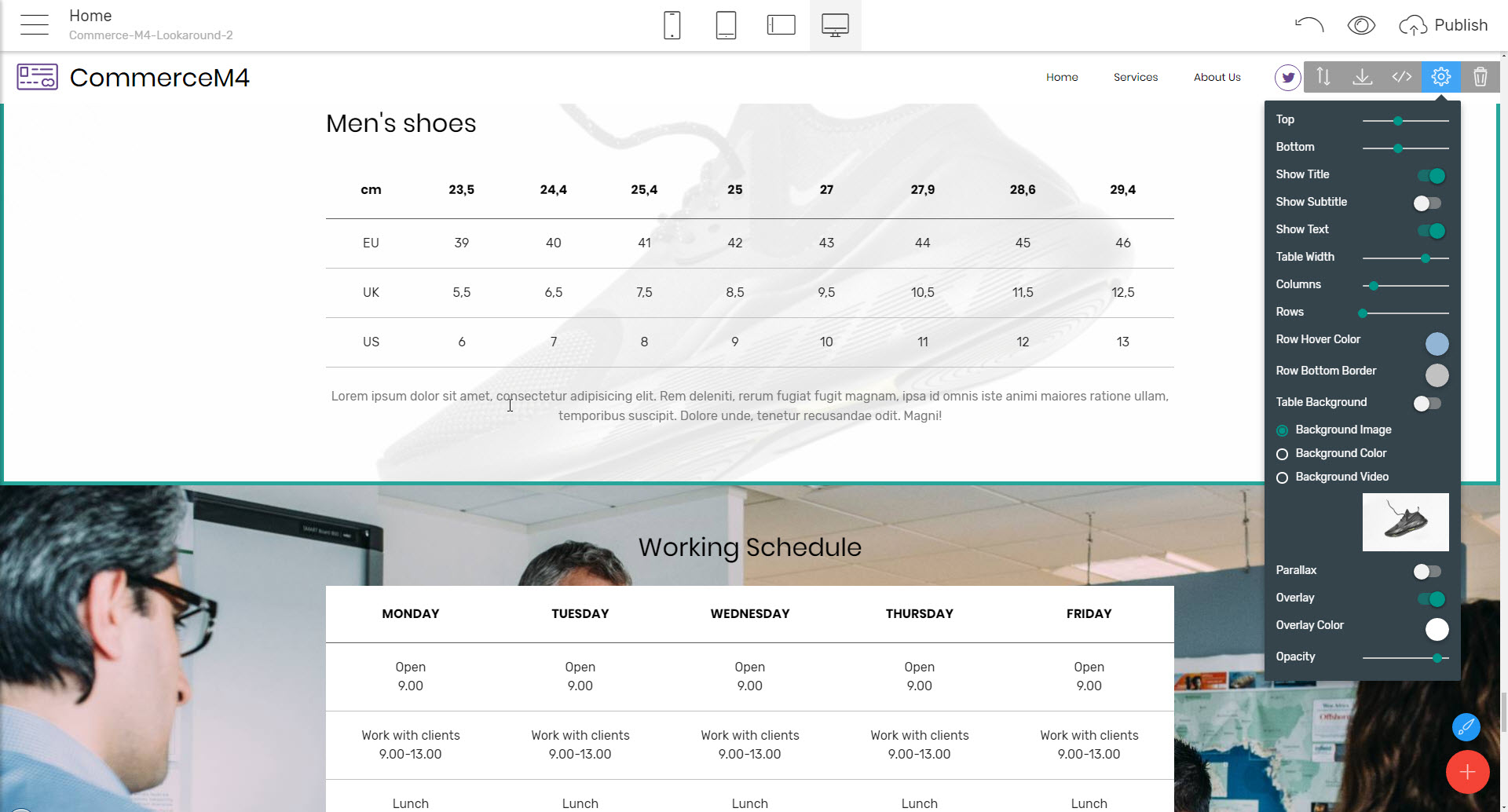 And in case the great site you're about to create comes to be a colorful addition to a real-life hardware store it's important for the customers to be aware not only where but also when to come visiting you. So, a convenient working hours table also takes place in the Blocks Palette waiting to be dragged in if needed.
Of course – pretty much like as it comes to people - any business nowadays has to have a strong presence in the social networks as well. It wouldn't be surprising if you already put some efforts and time to build a Facebook Twitter or Instagram account already. That's why I guess any modern website now has to have
Strong social networks integration features
In order to provide the visitors a real rich and up to date experience.
Visitor finding something precious over the net should be easily able sharing it with his/her community both promoting the place and giving his/her friends something useful to consider – basically a win-win situation.
The CommerceM4 online shopping HTML template got this thought of all around – form the social networks buttons considered to take place at all important places – like the page's Navigation and Footers to the convenient blocks letting these links stand or providing share functionality with a single click. It's generally easy to do all that by just dragging the appropriate block and adjusting the particular details about your or your business's social profiles. The Mobirise Mobile Web Builder even provides a great and easy to set up Social Feed Extension with which even a live feed gathering all the cool stull you have posted all over in a single feed right on the desired web page making the social integration even more useful saving your efforts and time – post something in any of your social profiles and have it instantly taking place on your page as well.
Now that's pretty much how useful the Mobirise Builder and CommerceM4 HTML business template can be for creating an appealing and modern web store even for a person not having much experience in web design. The ingeniously thought interface and the cool premade blocks with their flexible interface allowing a single block to take multiple appearances make it easy for the magic to happen. Of course – in order for a site to really shine these are just means – the most important are and always have been the content showcased and the concept behind it. There is no software for that – you should think it out yourself. But once you do – there will be nothing stopping you from getting it implemented and most commonly – even have fun doing it with Mobirise.
From the view of the experienced Mobirise Builder user
What CommerceM4 online shopping HTML template has new to show are the new appearance capabilities as the Buttons pulsing on hover feature, the two solid colored backgrounds and the multiple new table layouts designed especially for handling store specific tasks – like timetables and size charts.
There are also quite a few great looking on hover transitions with not only beauty but some useful information held within the items appearing which since it's an M4 theme can be freely used all over in other kinds of projects which is the beauty of the new way the blocks are being defined in v4 – each block being capable to take place in a site done with any theme.
Additionally – since the Google maps block is no doubt useful, but quite often – a bit too colorful the new grayscale filter for it comes as a great relief making it better blend in any color scheme with the mild gray tones the map gets after applying it. And since it's a map we're talking about – not legibility or content gets lost along the way.
A Mobirise Mobile Web Builder user being used to having control of pretty much all the tiny details which sometimes get unnoticed by the regular visitor might spot a few adjustments missing but I don't think that's a such an issue since the blocks in the online shopping HTML template come with a strong and clean design line. My suggestion is some adjustments are omitted in order to help the novice user following this line more easily preventing him/ her form unintentionally spoiling things up.
Final words
CommerceM4 HTML business template for Mobirise Builder comes to be as great as a standalone tool for creating an appealing web store and as just an amazing library of blocks to be used along with some other HTML business templates due to the multiple new cool appearances it has to offer.
In my eyes, it's the better theme to go for the novice user due to the design line and the specialized blocks it contains. Additionally, the headings and the way the blocks are being ordered in the palette are giving precious tops all the time. So by just taking some time thinking up a strong concept pretty much, anyone can create a powerful web store with it having just the regular computer skills they already have – like typing in an email and attaching an image with a few links.
For the experienced user the CommerceM4 online shopping HTML template can be not only a standalone tool but also a powerful library of blocks for any project and the additional adjustments sometimes missing can be easily refined through the cool entirely open way the blocks in v4 are being composed.
So generally – CommerceM4 HTML business template comes to be as good for the ones just getting to know such thing as Web Builder Solutions for the regular folk exist as for the web developers working with the Builder from the start – it all depends on how you look at it.
Happy designing!