Free AMP Templates Review
Across the digital space, the demand for Accelerated Mobile Pages (AMP) is increasing and this project is fast being adopted by big tech names and other webmasters. Apart from the speed associated with this platform, you'll find a variety of Mobirise free AMP themes that improve your website and provide it with brilliant functionality, device compatibility, and overall website optimization.
The latest Mobirise AMP themes offer improved web design for several businesses in different industries including construction, beauty and fashion, music, health, and other new businesses.
Mobirise Website Builder
Mobirise remains one of the leading and expert AMP website builder software which have AMP pages which can easily be used for personal and commercial purposes. Since many people are unfamiliar with the rudiments of coding and building accelerated mobile page, Mobirise offers a rich collection of ready-to-use Free AMP Templates that anyone can use for creating their business website.
The amazing part of this app is that you can download it for free and get access to a wide variety of Mobirise AMP themes which you can combine and blend perfectly to fit your website needs.
Apart from the fact that it works smoothly offline, Mobirise website builder also allows users to get a sample of their final website outlook before launching it. Whether you're creating a website for your business or for a client, you can always preview your design before approving it as final. Somehow, this possibility feels like what automated reality would provide. And since the technological age is fast moving toward artificial intelligence, there's no doubt that Mobirise AMP themes will be adopted by many more individuals who aren't tech experts.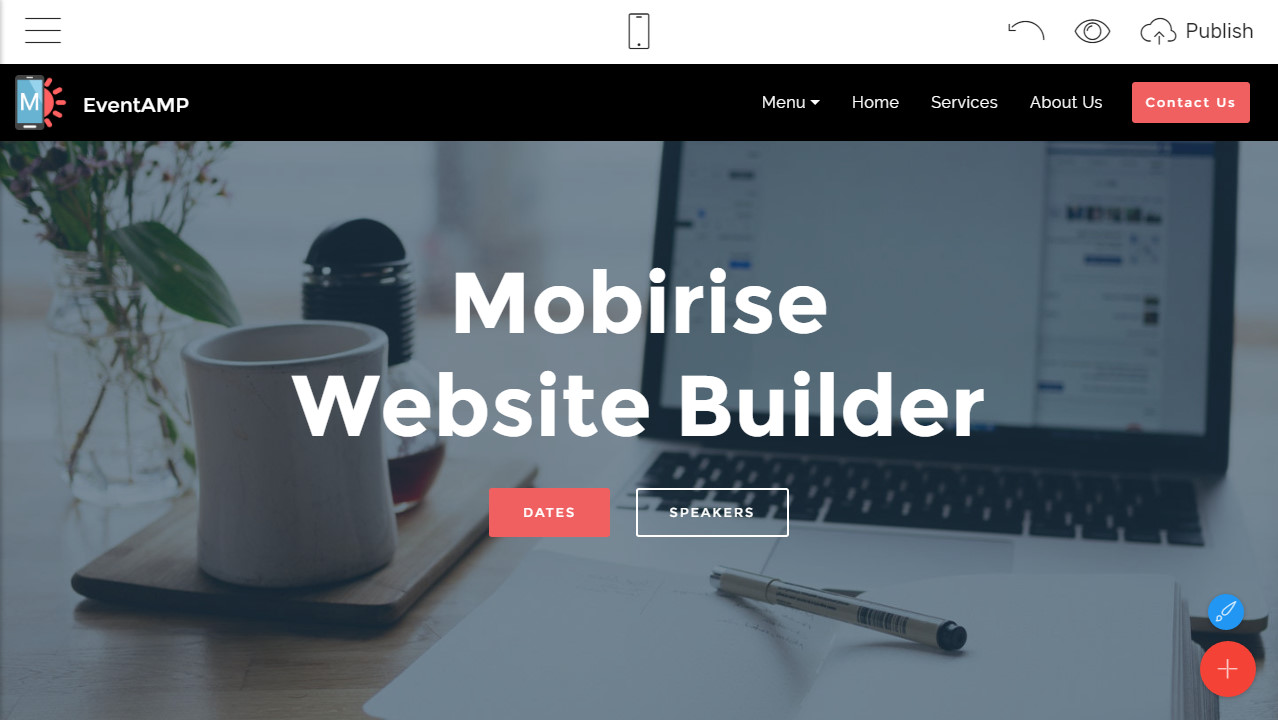 Interestingly too, Mobirise website builder performs better than many traditional website builders in terms of no cost, mobile compatibility, and accessibility. Plus, the several hundreds of blocks on this software are more than enough to provide the uniqueness your site needs to beat the growing competition in most industries.
Since the Mobirise Free AMP Templates are designed using the all-powerful Bootstrap 3 and Bootstrap 4 and they are highly ranked on Google, you can rest assured that investing time and effort in this software will be worthwhile.
Let's take you through the latest Mobirise AMP themes and help you get the hang of how they can boost your web design and performance.
HandymanAMP Theme
Like other AMP themes, the HandyMan AMP gives websites a fast and appealing appearance which ultimately improves user experience, bounce rate, and conversion rates. Of course, the AMP Project aims to speed up how web pages load and perform on any device such as mobile gadgets or PCs.
The HandyMan AMP theme is essential for websites that focus on repair and installation. Carpenters, craftsmen, designers, painters, handymen, and other workers in the construction industry will find the blocks in this theme most suitable for their business.
If you need to convince clients to purchase your repair services or cleaning services, or even buy a dream house, this theme comes with ready demos that can suit your website needs. Furthermore, the themes which also include pages for why internet users should choose your service contribute largely to engaging your visitors and sharing your identity with them.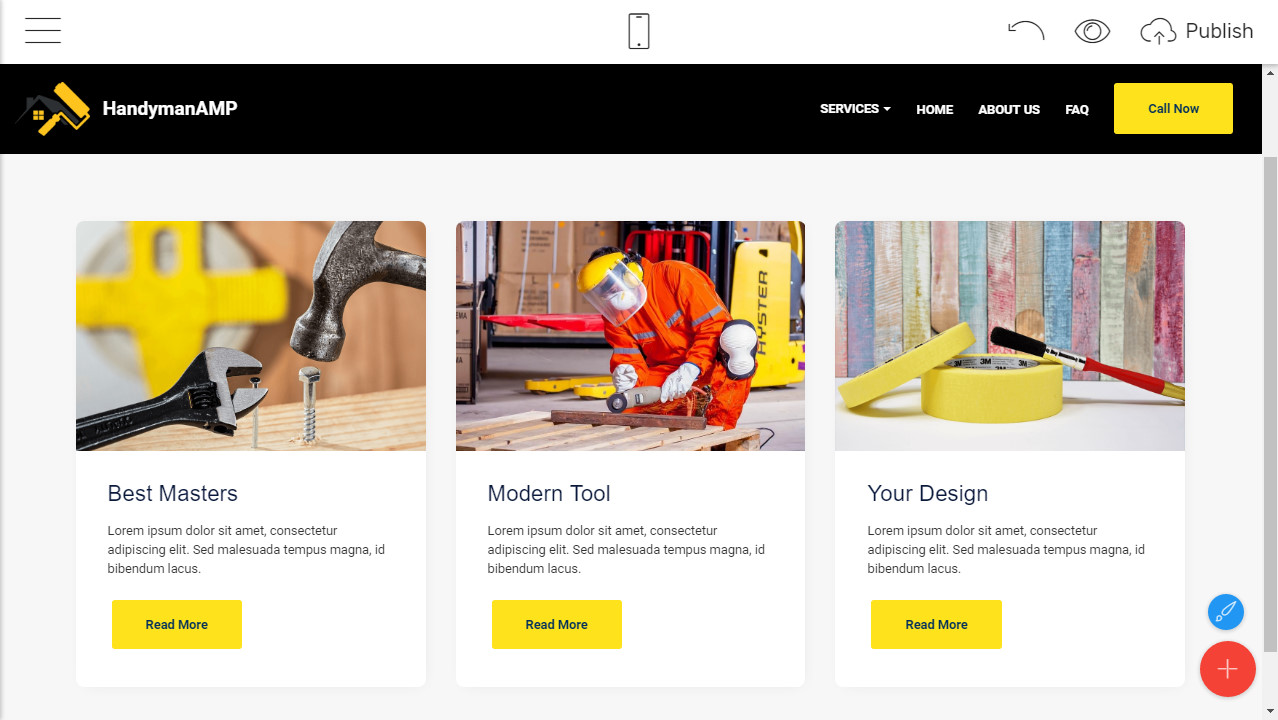 The HandyMan AMP comes with areas for content, images and graphics, price counter, products and services, testimonials, headers, features, and other tabs and accordions. In fact, you can go on to enrich your website with videos and sliders that show users what services you offer and how they can count on you for incredible service. And the presence of footers and maps makes it pretty easy for users to navigate your web pages.
BeautyAMP Theme
For people who understand the prevalent interest in skincare and body products, the BeautyAMP theme is a win-win. With this theme, you get to give your beauty studio or barber shop a persuasive website presence.
Indeed, irrespective of how beautiful or fully-stocked your massage parlor or tattoo salon may look, a poorly-designed website won't bring you clients from across the world. Hence, the way to go is to include the BeautyAMP theme in your web design and combines the blocks to include your menu, features, info, articles, images and graphics, and other videos.
Also, since this theme is compatible with windows and mac devices, you can trust that clients will have access to your website right from their PCs, tablets or phones. Besides, you can include data tables and pricing tables to present your service offerings and cost.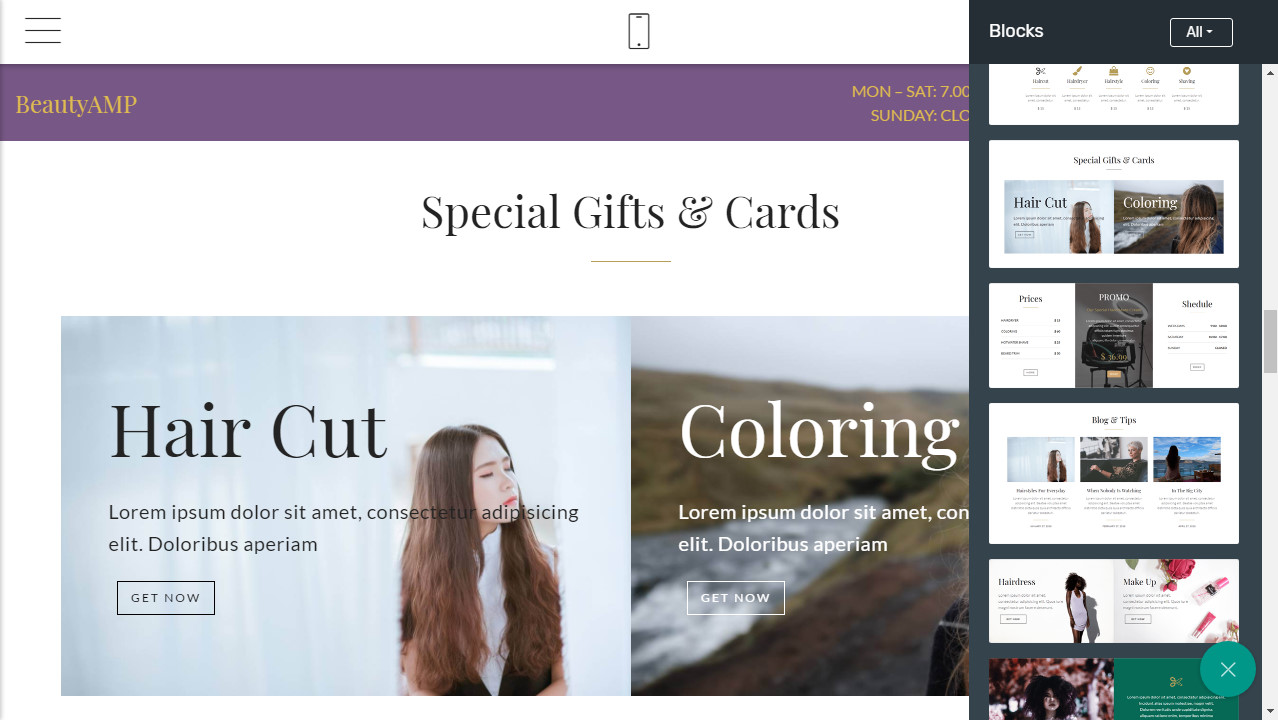 More so, the ease that comes with dragging and dropping blocks helps you to combine blocks for teams, articles, testimonials and forms, and social and footers. Obviously, website users must have sufficient information and a ready social platform before they can be convinced to partner with you on a project.
SoundAMP Theme
Are you a singer, DJ or producer? Do you need ready Free AMP Templates to showcase your sounds and connect with a wider audience? The SoundAMP theme was made for you! First, it allows you to upload YouTube videos of your music collection and allows music lovers to connect with you via social networks or by subscribing to your services.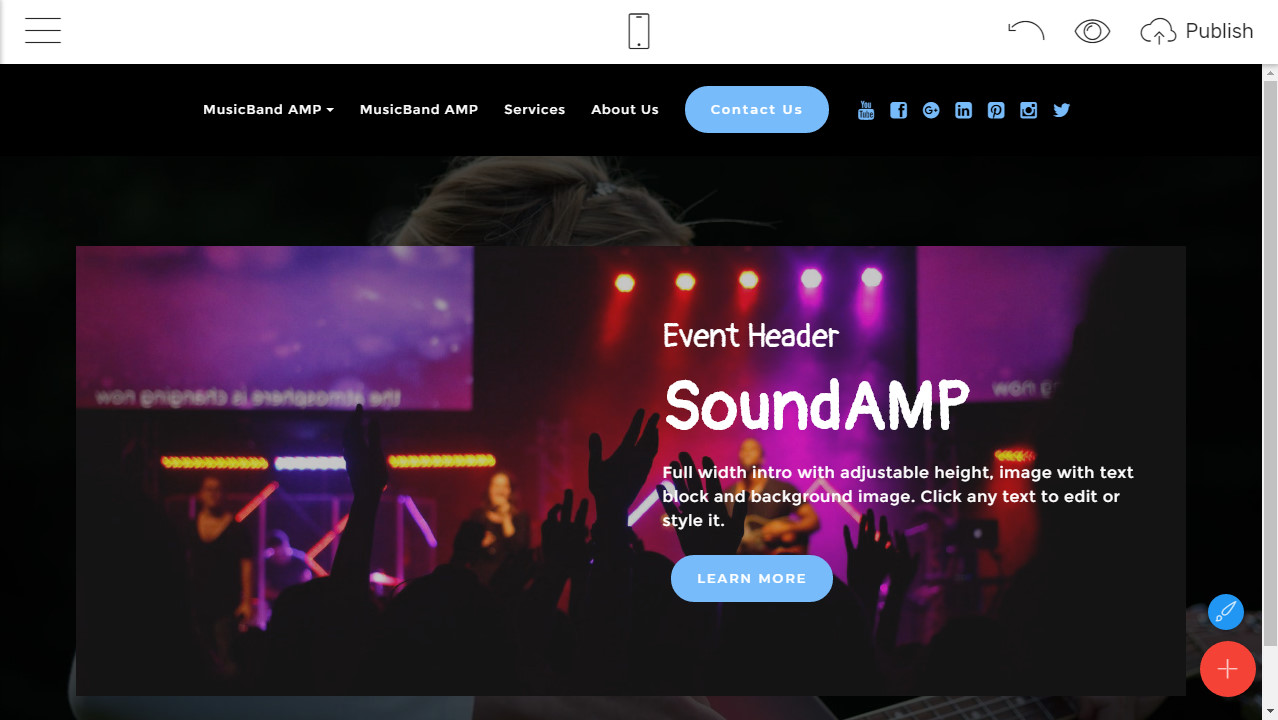 Music bands and groups, music labels, and other record studios can also benefit from the advantages of the SoundAMP theme. You can share information about yourself, describe your studio or even invite users to your music events. The Free AMP Templates on this Google AMP theme also allow you to share news and media. Images and videos, testimonials, gallery and pricing, and other amazing features are available on the CSS html template.
StartupAMP Theme
For startup websites which are concerned about creating the first website for their business, the Startup theme is the go to AMP design. It's an AMP page template that presents information about your team or business school, if this applies to you.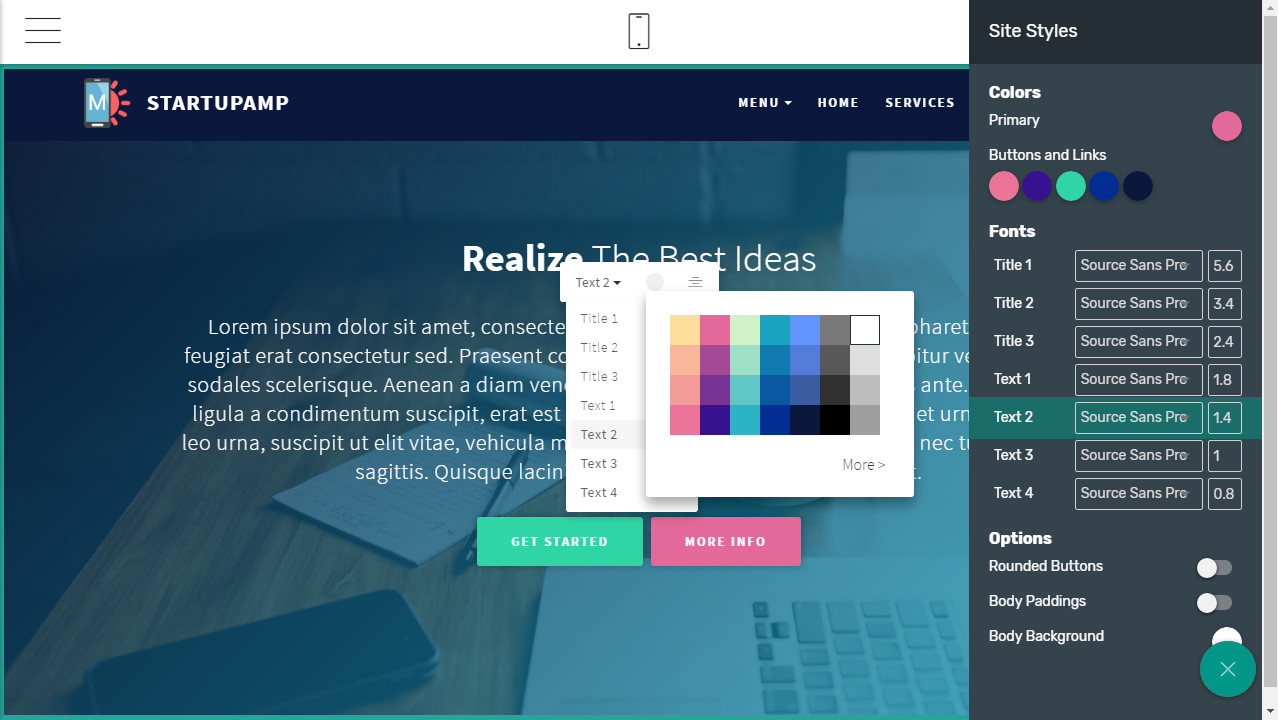 Also, it has Free AMP Templates for headers, features, home page, content, tabs and accordions, socials and maps, teams and forms, footer, and more. Since you can view the StartupAMP theme as live demo, like other themes, you get to determine if it's the perfect choice for your startup business.
SpaceAMP Theme
Think of any business that uses up space and you'll find home sales' agencies, health food stores, beauty salons, retail stores, and others like these. Such businesses will find the SpaceAMP theme ideal since it allows the combination of blocks such as counters and pricing tables, map, social, images and videos, and many more.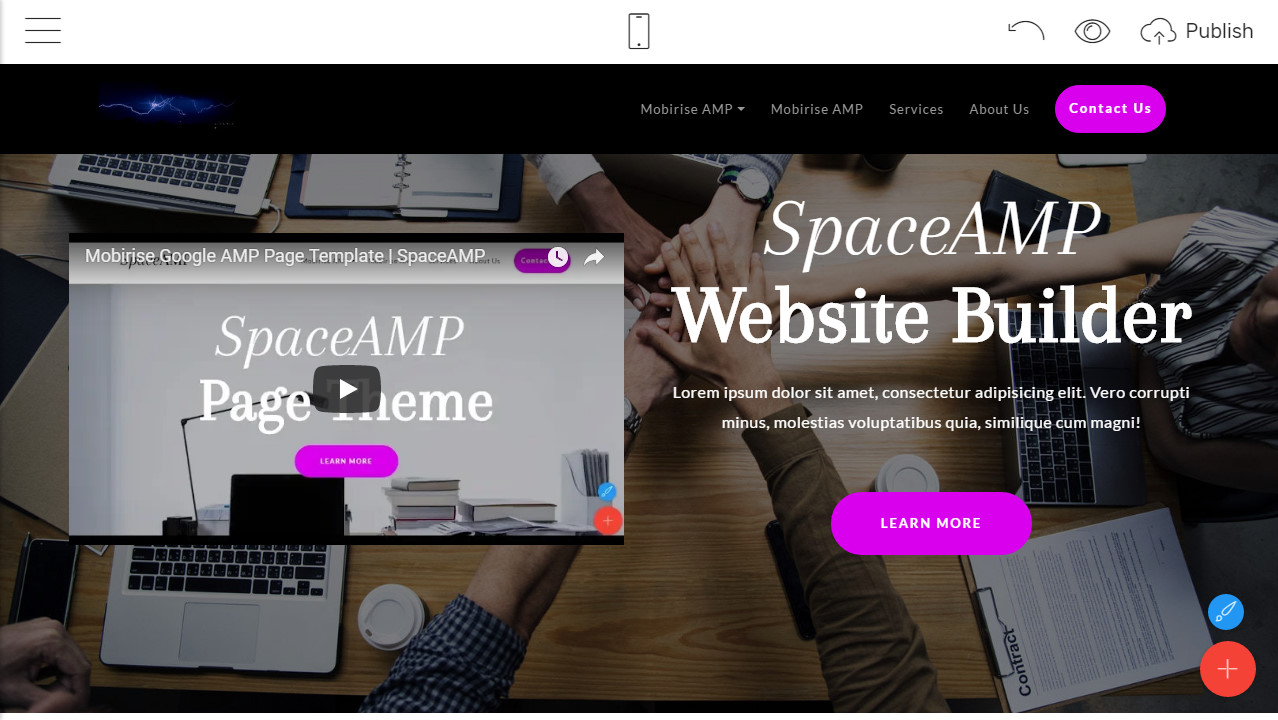 You can select the images that convince users to buy your products or opt for your service. What remains most striking about the SpaceAMP theme is how it combines the right graphics for the right business. And as you can conveniently enter your text and title, it's therefore super easy for you to share details about your business which can sell you in your absence.
This theme also enables you share videos and ask visitors to follow you on social networks and share your content with their friends.
Conclusion
Inasmuch as the Mobirise AMP themes are ideal for building the website of your dreams, they aren't entirely flawless. On the one hand, they promise to be highly-responsive and mobile-friendly. These indeed are features that make them highly-sought. On the other hand, however, you cannot access some features except you pay for them. So, the free website builder ultimately costs something.
In all, the Mobirise AMP themes are perfect for your website irrespective of your business offerings. Whether you own a music label, beauty salon, business school, repair service or health food store, these themes are the answers to your web design inquiries.