Responsive Website Templates Tutorial
One of the lucrative and profitable online activity is selling things via the Internet. You can do it using ready services and platforms, but you can gain more independence and brand recognition by creating your own online store.
But how easy is it to build an online store manually? As the matter of fact, it's too hard even for professional web developers. But there are ready-made solutions that let you create a small online shop within less than an hour.
One of these solutions is Mobirise eCommerce Website Builder with its responsive website templates called CommerceM4.
CommerceM4 online store template is an easy-to-use Bootstrap eCommerce theme with possibilities to add various website blocks as usual web editors offer as well as to create web shops with items, their descriptions, prices, photos and other information.
How to create an Online Store?
If you don't really have a coding or programming experience, time and money, CommerceM4 online store template is exactly that what you need. Its website builder is dedicated to those who don't want to write HTML/CSS/JS code manually. You can manage this online store template with some drag and drop actions.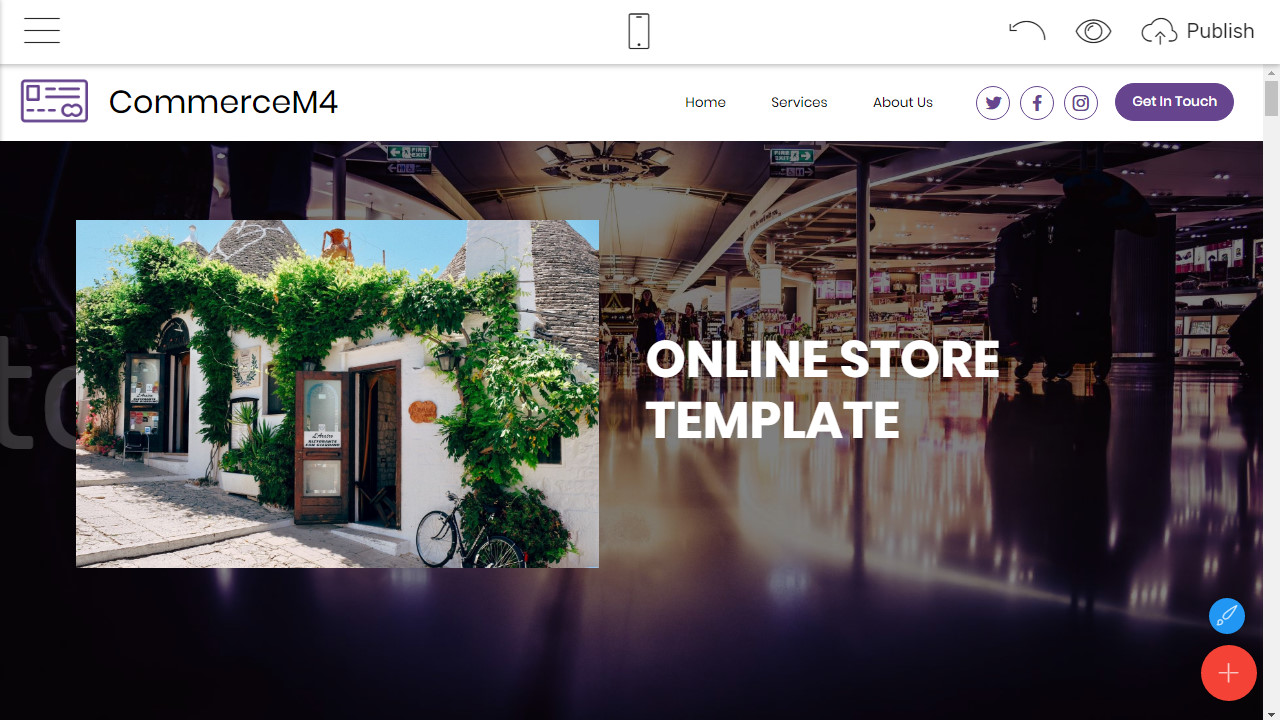 Here is a more precise instruction on how to build an online store with CommerceM4.
First steps
First of all, download Mobirise website builder and install it on your PC or laptop. It's completely free and doesn't take too long.
Once the installation is complete, you can easily create an account and start creating your own website. Click on Sites in the menu of the application and choose one of the free responsive web templates the program offers. In our case, you will pick CommerceM4 online store template for building online shops.
Now you just open the blocks panel and drag and drop sections you want to have on your page.
Outstanding Website Blocks
Mobirise lets you enjoy the variety of the blocks - there are more than 800 of them. Particular themes contain by and large 30-130 blocks you can mix and design your own way. The chosen Bootstrap eCommerce template provides you with 90 multipurpose website sections.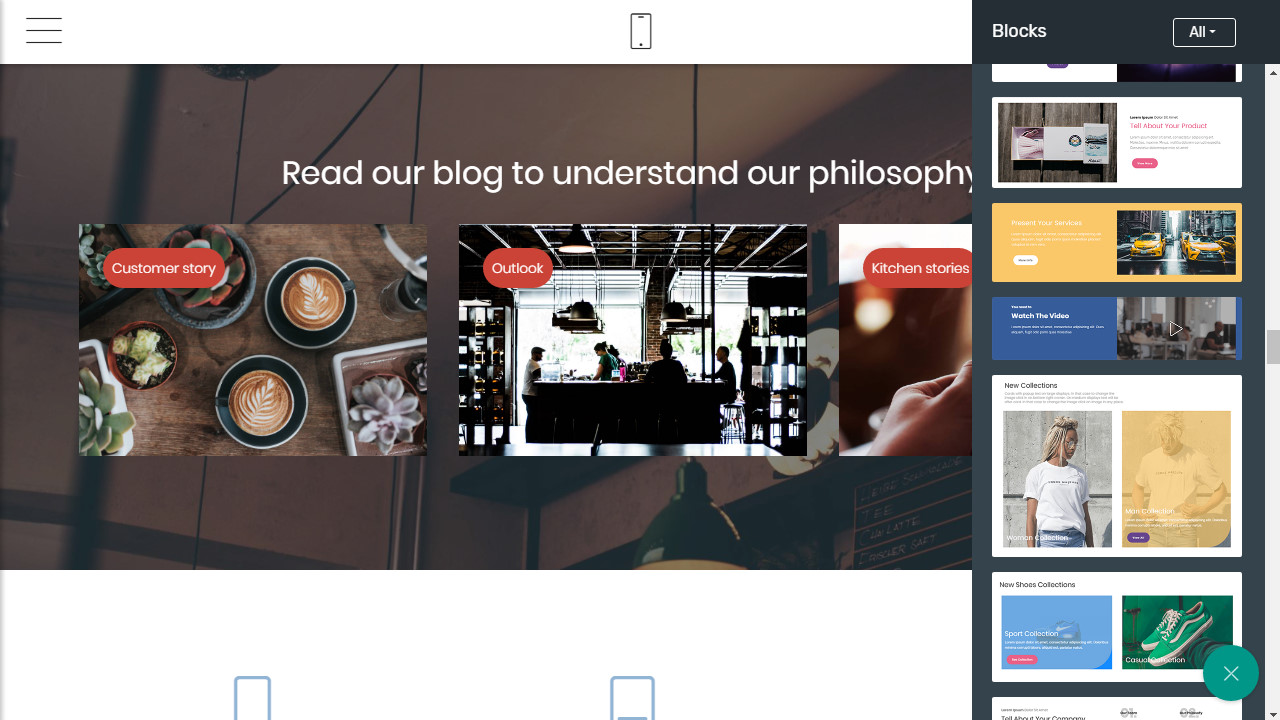 There are menus, headers, images and videos, sliders and galleries, features, contents, info, teams, forms and maps, tables, countdowns and counters, social blocks and footers.
Using Shop Blocks
What we are most interested in are shop blocks. There is a particular section for these blocks in the blocks palette. Drag and drop one of them to see what you're up to with it.
To change the appearance of the shop block, click on the parameters button. Easily change the color of the background, card bottom, On Sale shields and sidebar. Here you can also turn off/on the sidebar, card buttons and sorting buttons.
There are a Price Range slider, tags with filters and best seller section you are also able to manage with the help of the block parameters.
If you click on an item, you will see a modal window with an image, title, description and price of the product. Edit all the information like in a regular text editor.
If we go back to the block parameters, we will find images and parameters for them beneath. Here you turn off and on On Sale shields, Best Seller marks, old price and tags for the item.
Now as you know how to manage this shop block, you can add your own images and content with no problem.
Add a payment system
Mobirise also supports payment systems. There is a online shopping cart extension that allows for adding items to the HTML5 shopping cart and linking buttons to checkout pages.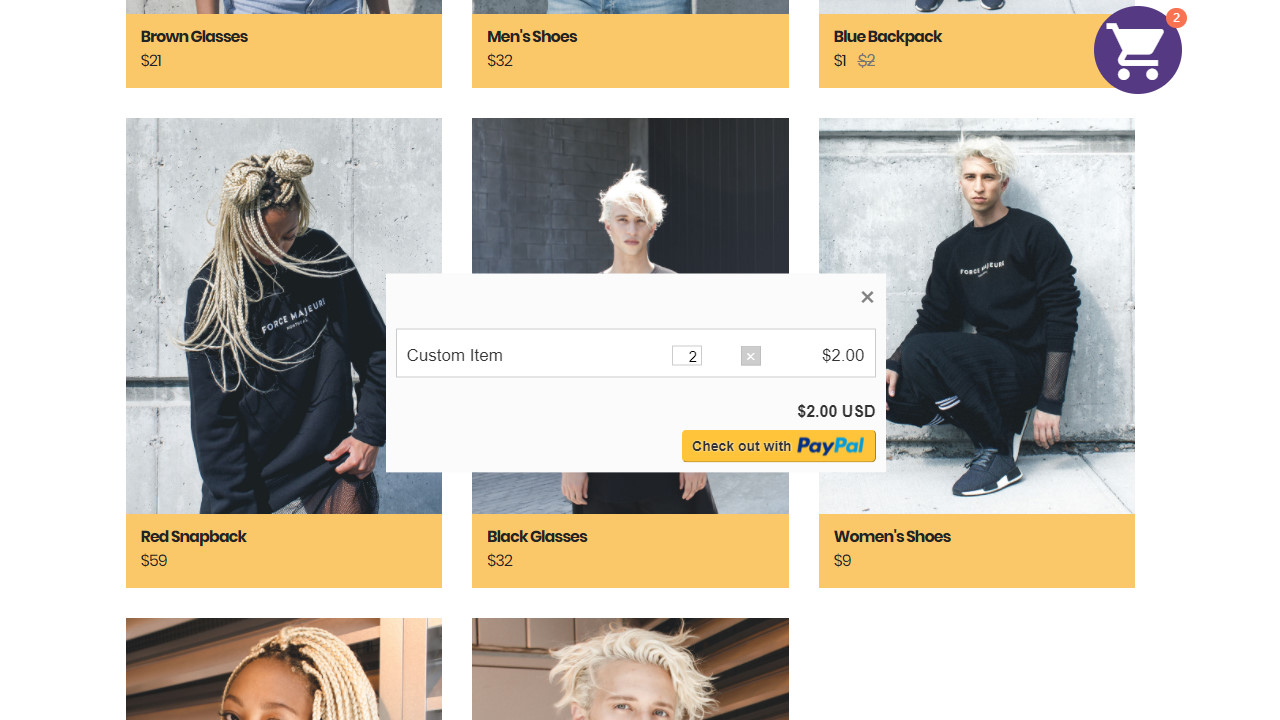 This shopping cart is very easy to design, too. There are no problems to adjust the price and the currency.
Publish your website
Now your online store is ready and the only thing you now need is to publish your website.
There are 3 options: you can publish your website to a local folder, to your server via FTP or to Github Pages.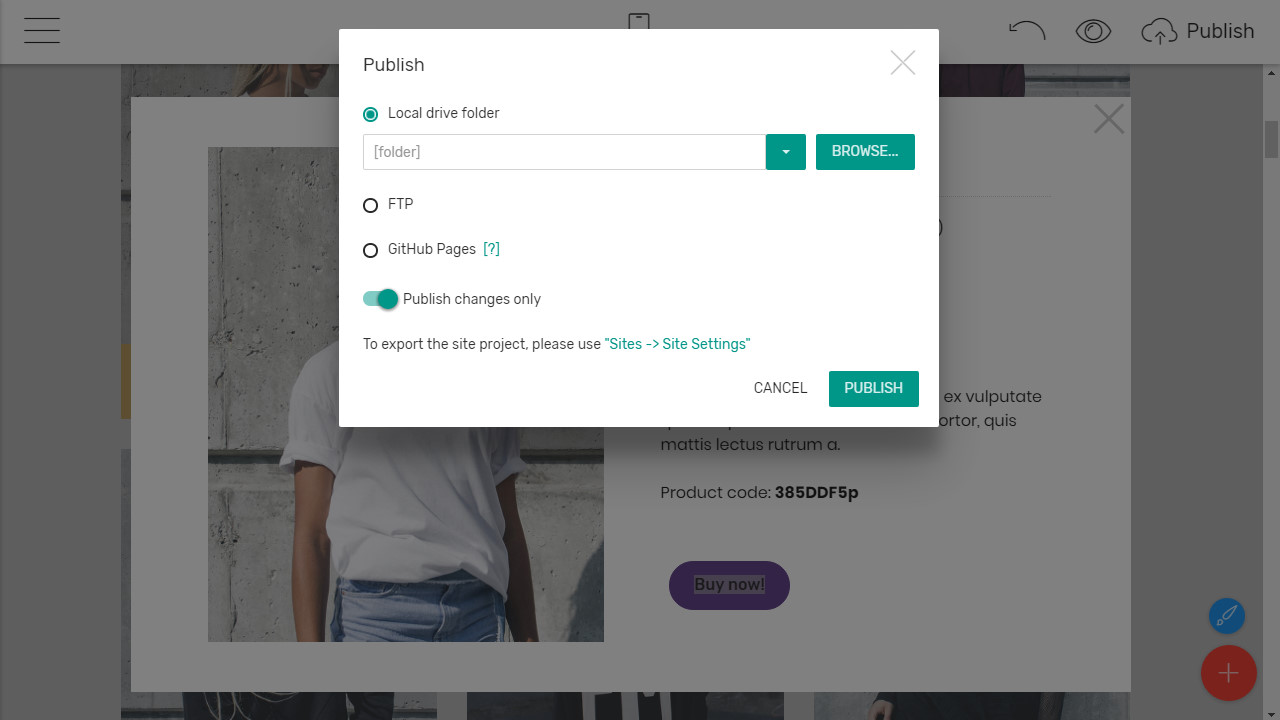 Unfortunately, Mobirise doesn't provide hosting services, but it can be a benefit - you are free to choose any hosting platform you want.
Publish your online store and upload it to your server - that's it.
Conclusion
There are so many features available in Mobirise that weren't mentioned above, but you can explore them yourself. Even if Mobirise and its CommerceM4 online store template seem to be limited in their features, there is more behind it. I wouldn't describe it as limited, just as easy and simple to manage. And this is what the most of people lack while using other tools - simplicity and user-friendliness.