Simple, clean, spacious and understandable flat icon design
"Everything is design. Everything!" ― Paul Rand
In the mind of the customer a website design is a reflection of the organization it is for. Firms invest thousands in having the best of designs for their website just to make the visitors have a memorable experience. In the past we have experienced some very notable changes in the web designing world. The earliest web designs were too flashy and had a little too much of stuff going on. Then we saw some improvement as the designing shifted to making the web site interface look more realistic and interacting with more media integrations. But all this has now changed by the advent of a rather more decent yet striking web design we call flat web design.
So what is a flat web design exactly? Well, for definition, flat design is a minimalistic design approach that put emphasis on usability. This kind of interface focuses on open space, bright colors and flat graphics or illustrations. The icons on a flat web design or rather "flat icons" are clean and have crisp edges again with a flat two- dimensional graphic layout. The flat icon design was first adopted by Microsoft for their latest operating system, Windows 8. This flat icon set uses shapes or illustrations instead of a picture or a realistic object, making them quite different then the designs we are used to.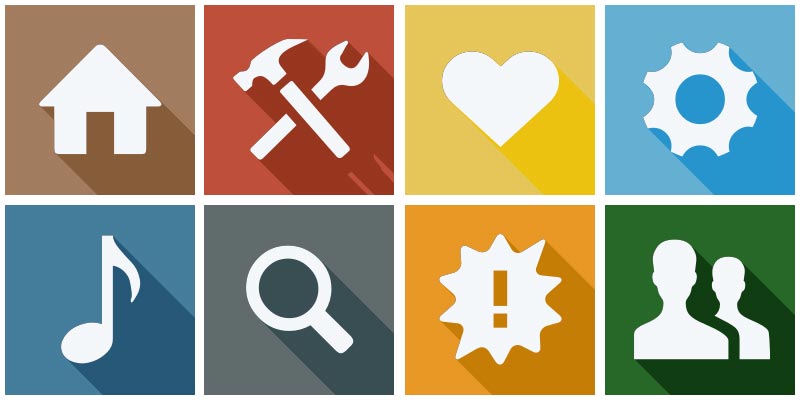 Flat web design has been quite a success. Majorly because of its simplicity and class. People have move past the flashy icons and loud color schemes and are now preferring something that is just simple. But not too simple to be boring. Flat designs and flat icons offer a soothing and sophisticated look that reflects decency and style.
"In my opinion, the trend towards flat design is a reaction against years and years of being forced to put a shine on every button. "Look at me," a flat design communicates. "I can convey all this information with a minimal amount of pixels. How cool." The pendulum is swinging far to the opposite extreme."
Marci Ikeler, Designer & Founder of Little Arrows
Redesigning your website to a flat one may just be what you need to increase your traffic and "visitors to customers" rate. All you have to keep in mind is that your design has to be simple yet bright to give your visitors a unique and user friendly interface. You can get tons of free flat icons for your own website over the internet that are brilliantly designed to be both simple and classy. In addition, there are also many firms that would make a flat icon design of your choosing for a very fair charge. Thus making it that much easier for your website to adopt a flat web design.
All in all, many website owners have opted for a simple, clean, spacious and understandable web design that makes it easier for them to successfully deliver their content to their target audience. Thus making flat web design an ideal choice for one's website.
Related
Get Iconion
Free download for Windows and Mac!