Try Iconion Converter for Better Icon Customization Experience!
Icon designing can help perk up symbols, marks or fonts that can add to a more enticing feature to any contextual or graphic presentation to a website. Website designing usually considers what kind of free icon fonts to use in order to develop a better engagement between the web page interface and website visitors for better viewing experience. Iconion is the latest icon designing software that website owners should try out because it is full packed with a designing tool that allows the user to beautify and design their own customized icons and fonts that will be perfect to the website design font effects and quality icon designs that will give your website visitors a unique viewing experience.
Iconic designs deliver a better communication interface
There are many reasons why icon designing remains to be a trend in website designing and infographics. Icons and fonts can be traditional and dull looking but with the use of the png to ico converter you will have the ability to transform these traditional icons into one from a simple yet enticing design to flat two-dimensional icon and font effects and other unique designs that will encourage your viewers to become more engage to your textual or graphic content.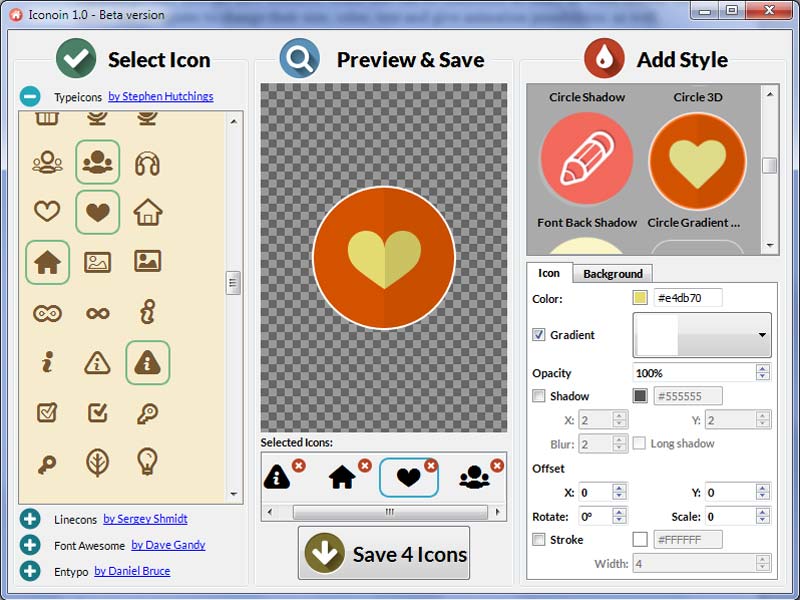 With the proper combination of graphic elements and appropriate color gradient, shades and other dimensional effects to your fonts and symbols, you can easily connect to your viewers. The Iconion icon designing tool gives you the ability to convert scalable icons, customizing its size, shadow, color and gradient according to your preferences. You can design your fonts to transform them beautifully while optimizing their size for better readability of your audience.
You can develop a better interface for your website using the proper icons and fonts that are crafted and customized according to your website theme. Graphic presentation tends to communicate to people better because symbols can simplify the more complex information. By using marks, symbols and icons it is easy to simplify the communication process to the users. Graphic icons are commonly used in the majority of the applications these days for this reason.
Iconion features and benefits
Using customized fonts and icons can bring advantages to your website. The Iconion software provides its users the ability to convert dull looking icon fonts and symbols into one with enticing colors, shapes and designs that perfectly fit the theme of your website. If you don't have the skills to make your own fonts and icon designs, the application has numerous templates to choose from to easily create and design your own fonts and icons. You can also test your artistic side by creating your own customizable designs as well without the templates. With the straightforward interface of the Iconion, navigating through your options is very easy and the application can produce the perfect icon or fonts that best complement your own web pages.
It takes a very few simple steps in order to use the online icon converter software:
Step 1. Choose your preferred icon from the vector theme available from the software dashboard.
Step 2. Start customizing the selected icon. Preview the icon and start editing it by changing the icon or its background properties.
Step 3. Save the icons from the Selected Icons tab as images by clicking on the Save Icon button.
Step 4. Start adding some style on the selected icon. There are a lot of customizing options like changing the parameters of shades, shadows, gradients and borders.
Step 5. Save the icon according to your preferred image style in jpg, png, ico and bitmap formats.
Tips: If you want to create better transparency to your icons, it is best to save your images in the png format. You can also save the customized icons in different sizes.
Enjoy the Iconion with better customization experience
Because graphic designs and font arts remain to be a consistent valuable element in web designing, the Iconion is a great icon converting tool that anyone can easily use to produce their desired customized font and icon designs and effects that make their website more intuitively and graphically pleasant to their website viewers. Being artistically skilled is not among your worries because the Iconion free icon converter provides beautiful templates and very simple customizable steps to perform in order to attain your desired customization icon effects.
Related
Get Iconion
Free download for Windows and Mac!