Create icons online
An icon or pictogram is not only your navigational tool but an eye-catching look that draws the user in. Looks are everything if your aim is to appeal to the user. You'll want your first impression to count. Creating an icon online is accessible to all and user-friendly for any novice these days. There are many icon creation resources and generators available for a low cost and some offer your first few free. Some of your most basic vector designs are also available for free. These are best used for amateur or non-professional purposes. If you want a cleaner more professional look opt for customizing your own.
Most experts will tell you that the style, size & scalability, motion, color, shape, in essence the design is the difference between an exceptional icon and a blasé one. Simplicity is best when choosing and designing your icon, no matter its use or purpose. The image should always relate to the purpose, otherwise its users get confused. Apple is known for their design success by keeping their layout simple and relative. Icon placement should also be considered, all relative icons should be grouped together, making navigation smooth and easy.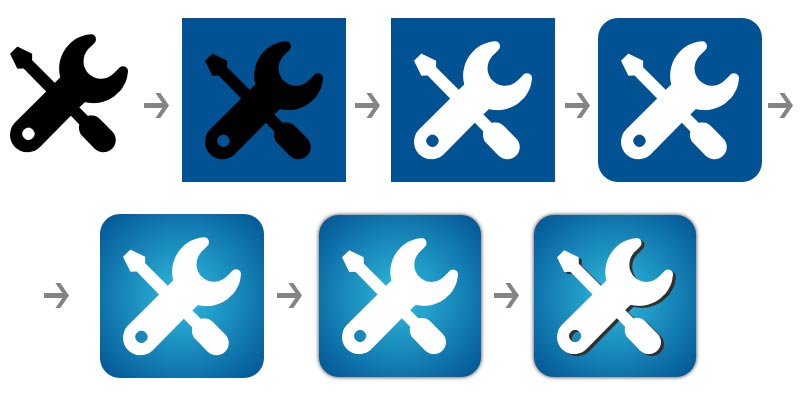 Simple doesn't have to mean boring, you can create beautiful icons by giving it a vibrant color like electric blue or a lively red. Creativity is key. If you chose to use an online generator, you'll be saving yourself the space that a software icon creator would take up on your on PC, plus you'll have a wider-range of images, features and templates that will always be up-to-date. The design process can be fun, this is where you can let your creativeness flourish. Taking advantage of features like rotate image, changing background color, color gradient, and long shadow (to name a few) you can turn a basic templates into something unique and appealing.
No matter the size of your icon, or whether you change its size, it should retain its sharp and clear image. A great icon generator will allow you to play with borders and its shape. Before picking a site, make sure they offer all formats (jpeg png etc). If you're making more than one icon, you should keep them uniform. It's best to keep them the same size, shape, color tone and border. If you chose shadows or gradient then all them should have it too. If you find yourself stuck, look for inspiration. There are some amazing graphic designers who post their portfolios. By doing a little research you can see what designs work the best and see what style suits you better.
For an excellent online resource for creating visible and alluring icons, try Iconion, see the link below. They offer a free download for Windows or Mac users, not to mention an abundant and substantial library and catalog of templates. You can save your icons as png, jpeg, bmp or ico formats, converting formats is also easily done without the hassle of going to another site to change. If you prefer to customize your icon, this site offers considerable choices and yet remains user-friendly. There is even a helpful video tutorial for those who take visual instructions better.
Related
Get Iconion
Free download for Windows and Mac!